Deck Maintenance
Every year when spring comes and homeowners begin their annual spring cleaning tasks, they soon realized that the area that may need the most work is the deck, a dreaded job that usually gets neglected. Don't put off making repairs, don't wait until it's too late and you need a costly deck renovation.
Wood decks should last for several decades when properly maintained and cost less to install than composite ones.
For minor annual repairs consider hiring a handyman, a handyman will generally charge less for labor and materials than a carpenter or deck company.
Common issues are:
Popped out nails and screws, mold and rot, mildew issues, pest control and railing repairs.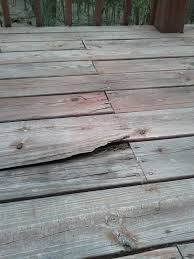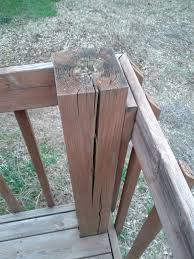 Annual Maintenance

During the spring, before you begin using your deck perform a careful inspection of the condition of your deck, and prepare to perform an annual maintenance consisting of:
Wash
Fix Nail Pops
Repair Split Wood
Stain and Seal
Wash: First use a leaf blower or broom then wash the deck. Purchase a commercial deck cleaner or TSP heavy-duty cleanser and follow directions (including scrubbing and rinsing). Wear rubber gloves and safety glasses. You may need to repeat the process.
For a large deck, you can rent a power washer to blast and rinse the decking
Dark stains may be due to mildew; cleaning with soap and water or bleach will clear up the problem. If you have planters on your deck, move them around to different locations to avoid trap moisture that can attack the wood. If children or pets WON'T be around consider placing your planters on mobile bases (casters) to make it easier to move around.
Non-mildew stains are often caused by natural wood extractives or corroding hardware and nails.
Fix Nail Pops: If nails or boards are popping up or coming loose, do not pound the old nails down again; remove them and replace them with longer nails, use special decking nails, or decking screws.
Repair Split Wood: More extensive rot calls for a replacement board, Replace them with rot-resistant wood. Redwood and cedar hardwoods have a natural resistance to termites and decay
Always begin your maintenance with a wash, clean it first, and then you diagnose and treat any discoloration. Last, you protect your deck with a durable finish.
After cleaning a deck, allow it to dry completely before sealing it, but don't wait too long or it will get dirty again. Determine if it needs to be sealed by sprinkling a few drops of water on the wood. If the water soaks right in instead of bead in, the deck needs to be sealed.
Stain and Seal: Consult with a paint supplier or other expert to choose the finish best suited to the lumber used to build your deck. It should contain paraffin or oil to keep moisture from soaking in. In addition, it should have UV blockers or pigment (color) to keep rays of the sun from turning the deck gray.
If your home is near wooded areas or subject to wood-eating bugs, see that the finish contains insecticide as well.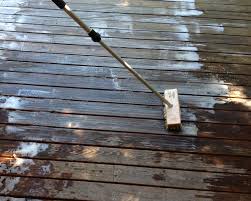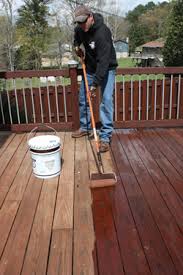 Apply a finish using a paint roller, brush, or sprayer. Stand back every few minutes and examine the finish to make sure the color is being applied evenly.

For high traffic areas consider reapplying an extra coat of finish.
For Low-Maintenance choices, look for Composite or synthetic decking, the ultimate choice for a low-maintenance, long-lasting deck. They're tough and durable, and they resist insect and rot.